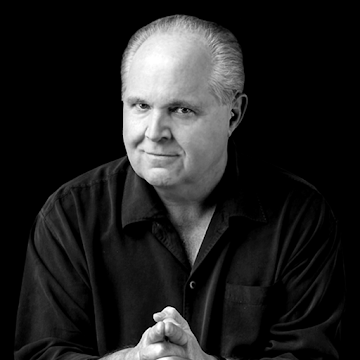 Author:
Premiere Radio Networks, Inc.
Eventsoja is not an official representative or the developer of this application. Copyrighted materials belong to their respective owners
Rush Limbaugh review
Are you an avid fan of The Rush Limbaugh Show? If our prediction is correct, you will be intrigued by Rush Limbaugh app that provides access to Rush Limbaugh shows and podcasts. Install Rush Limbaugh app to watch live and on-demand content related to The Rush Limbaugh Show. Have detailed and practical insights into the latest happenings in the country.
The Rush Limbaugh Show is a conservative radio talk show, initiated in 1988, and today, it is the highest rated radio show in the USA. The app is a medium for interacting with Rush Limbaugh and getting access to his talk shows, transcripts, videos, podcasts, and much more.
Features and Functions
Rush Limbaugh is active on various radio stations. The app tunes into radio stations at specific timings when Rush Limbaugh is holding the golden microphone. You can browse through the list of stations and listen to your favorite show. The live option is available for all users whereas the on-demand content is restricted to premium users. If you missed the live broadcast, catch up with the content by reading transcripts. Rush Limbaugh app has complete records of Rush's shows. Access these records at your convenience. Convey your opinions and thoughts to Rush by either calling him or sending an email.
Rush Limbaugh app offers a plethora of features for the Rush 24/7 members. The Dittocam feature lets users peek into the studio from where Rush broadcasts to the millions of listeners. See him seated behind the signature Golden EID Microphone in the studio. The video clarity of Rush Limbaugh shows is commendable. If you have access to high-speed internet connection, you can watch high-quality videos on Rush Limbaugh app. If not inclined towards video broadcasts, play the audio recordings. The Morning Update video is available for the listeners wherein Rush communicates minute-long updates.
The premium membership offers the convenience of listening to live broadcasts and access on-demand content. The personal email address of Rush Limbaugh is also available for Rush 24/7 members. Personalize content by adding or removing Rush's broadcasts in the Favorites section.
Interface
Rush Limbaugh app concerns with showcasing Rush Limbaugh shows broadcasted on EIB Network. You can expect pure information and nothing else from this app. The navigation menu seems simplified and easily accessible. The app layout has been designed in a manner to highlight every aspect in a proportionate manner.
The contrasting use of black and white colors aims at highlighting information. The videos stream effortlessly if connected to a reliable internet connection. The search bar recommends content as soon as you start typing.
Conclusion
For all those who prefer listening to Rush Limbaugh, this app is for you. Install Rush Limbaugh app and catch up Rush live in action. The live broadcast from behind the iconic Golden EIB Microphone in the EIB Network studio is simply mesmerizing. If you have a high-speed internet connection, you can watch videos uninterruptedly. Sometimes, tuning in to radio stations can be a hindrance due to poor connectivity.
The app incorporates advertisements for revenue purposes. It is recommended to purchase Rush 24/7 membership for availing complete features and functions. If your Android device runs on Android 4.2 and above, the app will function seamlessly.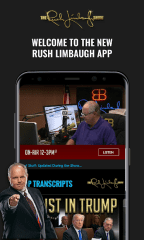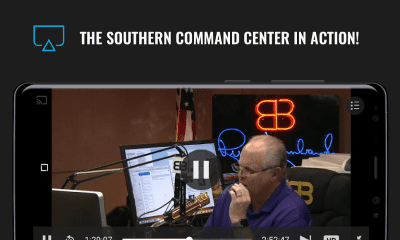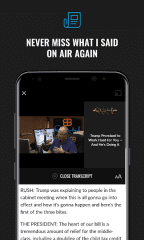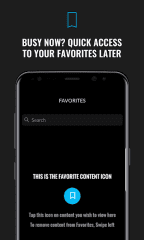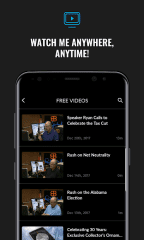 Rush Limbaugh