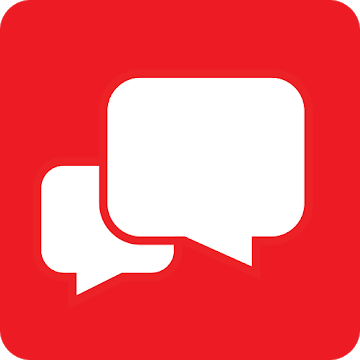 Author:
Verizon Consumer Group
Eventsoja is not an official representative or the developer of this application. Copyrighted materials belong to their respective owners
Verizon Messages review
Enhancing means of communication is the ultimate aim of social networking. Verizon Messages is a social networking app that delivers more than expectations when it comes to communication. Connect with your loved ones by sending messages, making voice and video calls, sending media files, and sharing location. The app furnishes multiple ways of jazzing up conversations.
Verizon Messages functioning does not refrain to Verizon network. You can use Verizon Messages irrespective of the cellular network. An internet connection over a cellular network or a WiFi network will ensure seamless functioning of this app. You can make in-app purchases of gift cards and search media files on the web.
Features and Functions
As the name suggests, the main function of Verizon Messages app is conversing with your contacts. You do this is multiple ways of sending text messages, voice, and video calls. While sending text messages, you can also send voice notes. Share media files like images, videos, GIFs, and so on. An infinite collection of emojis, stickers, and other graphics spice up your conversations. Create groups in Verizon Messages app. Add up to 250 members in a group. You can mute a conversation, remove members, change avatar and background, and much more.
Verizon Messages collaborates with Yelp to further simplify communication. As Yelp is a directory, listing places and avenues, you can use Yelp on Verizon Messages to send information or location. Whether you are at the restaurant or at the supermarket; just share Yelp listing in the conversation. The Kanvas feature allows you to showcase your creativity. Edit pictures, photographs, and videos using various editing tools. Insert emoticons, stickers, GIFs, doodles, and much more. The in-app camera lets you capture moments in real-time and send them instantaneously.
Glympse™ is an indigenous feature of Verizon Messages. It allows you to share your present location for a definite period of time. Your location is visible to your contacts and thus if nearby, they can get in touch with you. Show your love by sending gift cards using the eGift feature on Verizon Messages. Gift cards are perfect for occasions like birthdays, anniversaries, showing love and gratitude, and so on. More than 30 stores offer gift cards on Verizon Messages.
Interface
With so many features and functionalities, it's hard to maintain a lucid interface. Verizon Messages has done a commendable job in this aspect. Everything looks neatly organized. You can access all features without any difficulties. The third-party app's integration works smoothly without any glitches.
Verizon Messages finds extensive usage because of its capability of synchronizing with multiple devices. You can operate Verizon Messages on a smartphone, tablet, laptop, smartwatch, and computer. Just use your credentials to use different versions of the app on multiple devices. The data is synchronized in real-time, thereby, facilitating flawless communication.
Conclusion
Verizon Messages goes a step ahead of its competitors in the same niche. The presence of unique features like Yelp integration, Glympse™ location sharing, turning on driving mode to send auto-replies, and scheduling text messages, compel users to install Verizon Messages on their Android smartphones. Further, the app works on cellular networks other than Verizon.
Besides Android, Verizon Messages is available for iOS, Windows, and other operating systems. Talking about Android, it requires Android 4.1 and up for smooth functioning. There are no advertisements in the app. However, you can make in-app purchases if you would like to purchase gift cards from online stores. Verizon Messages is successful in rendering a robust platform for effective communication.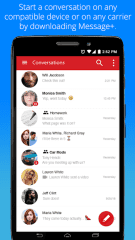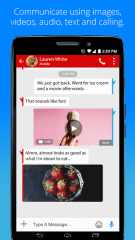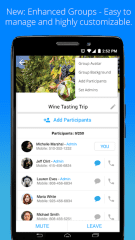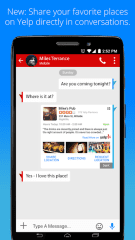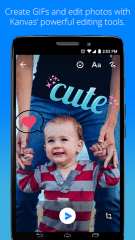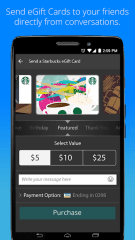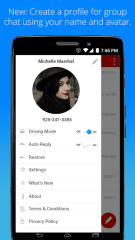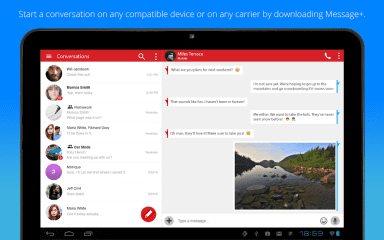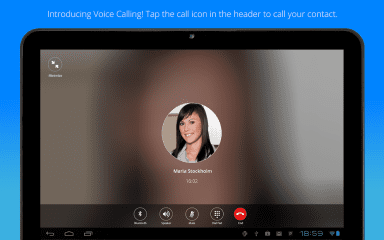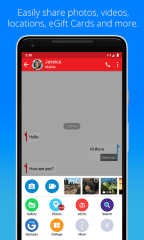 Verizon Messages